France, Spain & Morocco August - September 2004
Check out all the photos at http://verydodgy.com/photos/180804/index1.html
Here is Justin's diary from our trip around France, Spain and Morocco. A very interesting read, cheers Justin! :)
Please leave your comments on the verydodgy.com forum.
18 th
7.40am
Tom's house. Tom says "I'm a moron. I just woke up".
8.00am
Richmond Station. Tom admits he was late coz he was shaggin his bird.
8.30am
Meet James at Vauxhall. Bumped into Rachael Spratt. She looks fucked up. Couldn't get a tube to Tottenham Hale. Got bus then Taxi to Liverpool Street . Got to airport. Bought books. Struggled not to say bomb. Tom told lady next to him on plane that we was a Waterloo station left baggage destroyer.
11.10am
Last on plane.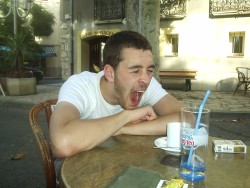 2.10pm (French time)
Arrive Perpignan . Bump into guy from Villa. Irish guy with mullet. I have no money?! Get to Estagel. Wicked view. Vineyards and mountains.
Went looking for food. Bought cheese, salami and bread and ate with vagrants in Esso station car park. Went into town and drank beer in café. Walked around. Skimmed stones. Saw goats. Saw "fuck" graffiti. Played ping pong. Ate Croque Monsieur. Watched French rugby and had more beer. Played baby foot. Walked back and stole grapes from vineyard. Passed "Espace Nelson Mandela". Drank 2 bottles of wine between us. Tasty. Watched Olympics.
19 th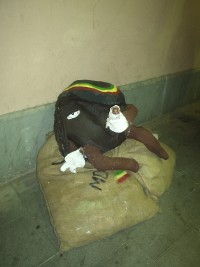 Bad nights sleep. Dreamt about a giant anaconda. Up at 8. Tom had taken two showers during the night as so hot. Snored and woke himself up! Nice breakfast. Irish owner drove us to town. Got bus to Perpignan . Train station. Platform said " Perpignan centre du Monde" (Dali). Drank in nearby bar. Went to internet café and drank. Got train. Saw book called "La vengeance de Sadam Hussein". Met Matthew and Naomi (Irish). Got to Port Bou. SPAIN ! Ate freaky pizza's with deadly sharp hammers. Sangria and beer. Chilled on beach. Travel master cracking up. Took Charge. Gave it back. Saw Tom's mum. Listened to The Streets. Splashed around. Pasty motherfuckers still. Got train. Was cold. Got to Barcelona and no-one knew street hostel was on. Asked police. Fuck it, got a taxi (driver lived nearby so luckily knew street). Looked tres dodge. Smoked on balcony. Italian asked James if he wanted Mary Jane from over the road. James said no. Idiot. Went to Italian restaurant. Had swanky food and beer mixed with slush puppies and wine. Had grappa. Fuck. Asked waiter where night life was. Got metro (it's wicked!) and went to Place de Sol. Catalonian Independence Rally. Bought beers. Freaky ska music. Mullets and crutches (saw 9 people today) everywhere. Mary Jane thick in the air. French men (stripy tops) Stoned coffee beans & cakes in paper mache. Met more Irish. Fahrenheit 911 dubbed in Spanish. Old and young everywhere. Worked out how to ask where to find Mary Jane. Too late. Got Taxi. Couldn't find street. Discussed anarchism. Went to Irish Bar. Asked bar tender about Mary Jane. Told us some things. Drank. Met bird from Manchester . Argued about human rights. Bernstein died. I'm born to be white trash. Went back. Met neighbours who shared balcony. Tom asked a girl in the corridor eating an orange if that smell was Mary Jane. She said it was oranges.
20 th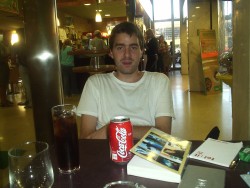 Slept well! Had dream that I was teaching Hari Krishna's to levitate. Decided to leave Barcelona . Smoked on balcony and realised massive Mary Jane plant was growing on balcony opposite. So near yet so far! "All cops are bastards". Nowhere to go and nowhere to be. Went to easy everything. And booked Alicante hotel. Had subway sandwiches. Met Sheffield birds. Walked down Las Ramblas. Saw man in white gurning on a white toilet. Saw Chris Columbus and wondered where we was heading. Fed fish a tracker bar at port. Went to Segrada de Familiar(?). Was phat! Ate tapas. Sangria. Sat next to Americans. Was told Morocco was safe by waiter. Got Metro. "Imagine" by John Lennon graffiti line by line on ceiling beams in station. No trains to Valencia except first class four hours later. Had to get it. Drank and discussed MacDonald's whilst waiting. Had a happy meal. Tom finished first book. Bought Kool cigarettes. Played connect 4 and checkers. ARS. Got on train 8.30. Champagne/Sherry and nuts! Free headphones! Wrote this shit. Silence Cody Banks. Tuna Steak airline food. Tom spilled his coffee. I ate his food. Beer. Pissed off stewards with constant requests for alcohol. "It's a matter of time, before I get mine." Cuba libre. CUBA LIBRE. NO! Stole salt n Pepper shakers! More drinks. Chivas Regal. Tom pranked James. Steward took his drink. Met Mendroga and Erita. Train an hour late. Fight for taxis and lose. Pepper the station. Salt my pockets. Taxi driver (eventually!) says hotel 15k out of town. Go to wrong town. Stefano mumbles directions back. Arrive. 1.10 (9 hr journey in total). Hotel room air conditioned. Sweet! Tom skanks tooth paste and admits he didn't bring any to save space. He had also cut his toothbrush in half. Watch Olympics and porn.
21 st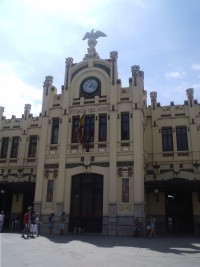 Dreamt of Anaconda's and machine guns. Know nothing and seen nothing of this city but have to get out. Valencia shrouded in bad luck for us. Could only find hotel in Alicante . Couldn't finish cigarette before taxi came. Damn Valencia ! Old woman walks into plate glass window in the station. Cheese, ham, bread, crisps and Rum on the train. Talked to cabbie about football. Room is phat! Sky TV (kinda). Warm sea. Topless girls. Bud ad. Talked about Pi. And Phi. And sand. Swimming. Pee in sea. Beer. Sea flat and calm. Rock climbing back to hotel. Rum & Olympics. Booked a taxi which took 15 minutes to arrive. Vending machine beer. Croissants and cheese. Asked taxi to take us to "Port? Harbour? Marina ? En tyen do?" took us to a club called Marina . Very swanky. Very expensive. Very Dull. Walked to town. Ate in dodgy tapas bar. Sangria. Meatballs. Mussels. Chicken and Chips! Found lively part of town. Drank in Munchen bar. Rum & Coke. Caprini. Met Scots called Alistair, Martin and some bird. Told us where to find house and garage club. Went wrong way. Travelmaster losing it. Found club (called Havana ). Wouldn't let tom in coz he's wearing sandals. Didn't understand bouncers so walked in anyway. Ram packed. Beer. Watched Olympic football and bumped into Scots. Went to little hip hop bar. Rum and Coke. Learnt how to request songs (Por favour toca…). Got hiccups and asked barman for water. Took a while demonstrating hiccups. Barman spoke English! Rum and coke. Bartender was with Mary Jane! Oh how I missed her. Bartender let her come with us, but her papers got wet! Met drug dealer from Elton who pulled a German who said she loved him. Looked for another bar but all good looking places were closing. Walked home. Took an hour. Ice cream! Mary Jane! Discussed Economics. Asleep at 7am.
22 nd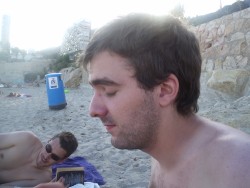 Got up at 2. Watched Olympics. Went to supermarket and bought stinky cheese and freaky donuts and block of ice. Swimming pool closed so rock climbed back to beach. Sea all waves and rough. Old Spaniards shouted at us so we moved. 6Euros a sun lounger! Tom got busted up. Beer! Giant waves flatten the sea. Shit head. Walk back. Ice cream. Olympics. Taxi to town. Paella, pizza and wine. Internet café. Metal Slug 4! No help so taxi to bus station. Tom or James lose my other pen. Bus station all closed except the right line luckily. Hippy looking freaks try to help translate for the guy at the desk but fuck it up. Tom trys again later and succeeds, but have to get up at 5 for bus. Crutches still everywhere. Walk back to town to get a taxi. Buy a dolphin blowing bubbles. Step in shit. Taxi back. Pack frantically. Argue over Mary Jane but have her anyway. Olympics. Sleep by 1.30.
23 rd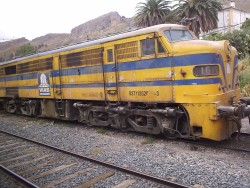 Woke at 5. Got up 5.30. Fucking hell! Packed and go to station. Hobo's singing. Get on the bus and I'm the freak! Sleep and watch "Staggered" in Spanish. Stop and see truck full of Morales. Back on bus, back to sleep. Arrive at 11.30. Argue about Taxis, mutter curses to myself then realise I'm a fool. Find out they had lied to us at last station and train is at 13.45 no 17.00. Woo! Local café. Beer and coke come with free tapas. Interesting. Grenada supposed to be most interesting town in Spain , but we're leaving right away anyway. Roquefort and steak sandwiches under an orange tree. Sweet. Get the train. Read and watch gigantic country roll by without noticing us. Dark thoughts of loud cold England fill my mind. A beautiful girl talks to a stranger and keeps glancing at me at the same times I glance at her. She sleeps. I have a cigarette and write this shit. Get to the station and Marta and Victoria arrive quickly. Get quick tour of town. First bull fight ring is in Ronda. Get to house and awkwardly introduce ourselves to our Spanish hosts amongst yapping dogs. House is called Padres Naranjcos or Orange Tree Monks! Jump in pool. Freezing but still nice in the overcast weather. Get out and tom throws us in. James throws him in. Typical. Lounge about. Head back to house and eat some fruit. Nothing to do so play shithead, drink rum and listen to music. Have bbq for dinner of sausages, burgers and pork escallops. Tasty! Play cheat, but it's rubbish. Drink, more shithead then finally say goodbye to Mary Jane. I'll miss her. I wonder when I'll see her again?
24 th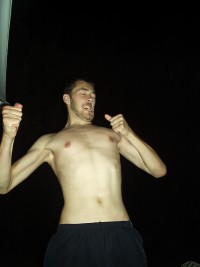 Got up at about 2 to cries from Victoria wandering if we're alive. Finally see view from window; olive groves and mountains. Fantastic. Eat some fruit then go to pool for hour before lunch. Tom and Marta gone to Malaga to pick up Marta's friend Lara. Have lunch of pasta salad and fruit. Very surreal as it's like me and Jim are on a Spanish exchange with this family. Victoria tells us that Jorge psychopathic and has hung her dolls and teddy bears up with nooses with she was young. I like that guy. Sounds crazy, but can't understand him. He spent all morning watching the Simpson's. Go back to pool as have to jump in periodically to stay cool. The pool is pumped from a well, and is phat! Rescue a fly drowning as it seems out of place in the water as we are in Spain . Then watch a hornet make concentric circle shadows as it drowns as I hate those bastards! Play shithead and other games. Many hornets are left to drown as Victoria comes to tell us to get ready so we can go to Ronda to pick up Tom, Lara and Marta. Almost hit an oncoming car but survive to get to the station early. Go to buy 10K of whitewash which seems to be bags of coke. See washing powder called Colon . Victoria heads off for her secret appointment while me meet Lara etc at station and put her bad in the car. An old man curses us in Spanish and tells us to move the car as he has a very big car and needs more space in case he decides to drive for the first time in decades. Jim reverses a couple of feet in comical stylee, turning on the windscreen wipers etc. Tom feels ill so we go to a bar in the shadow of a giant church with skateboard kids outside. Beer and sangria. Ham and cheese sandwiches. Go to Park and see off the edge of Ronda's world. Fanfuckingtastic. No new buildings/roads allowed! Wander down an alley named after Hemmingway and discuss where he was buried. See a Spaniard playing Spanish caravan and selling his CD's/ Go to the bridge and see waterfalls and mountains. Woo! Discuss pranks we can do for the Sun using a union jack. Look for bullet holes in building but find none. See McDonalds! Go to most indecipherable cash point ever and panic! See a bazaar which sells Samurai swords. Meet Victoria and wonder back. Discuss our desperation for alcohol. Do an illegal u-turn with six people in the car to get into a petrol station to buy big bottles of beer. Have Spanish omelettes for dinner with more pasta salad. Marta's aunt renames me Faustino. Discuss nature of languages. Loads of fruit for dessert. Got for night swim and drink beer and play 21 drinking game. Go to bed about 2 after connect 4 and checkers.
25 th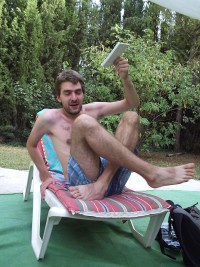 Get up at 12. Tom and Victoria had already gone shopping. Toast & coffee for breakfast while Marta cuts up tomatoes. Go to pool, read, play in pool, listen to music, play with bats and balls. Discuss Michael Moore, movies, animation & American politics. Tom goes to read and Victoria comes up. James has a near death experience. Discussed how to help Bebita rent out this piece of paradise. Finally we're paying our way! Had picnic style lunch of leftovers. Tasty. Wandered off to stroll in the olive groves so stopped as the gate. Sat on random rotten wood table and chairs for cigarette break and Lara came along to skank one. Dig that girl's mind! Discussed life and where it's going. Being young and realising you're old. How to learn from random elders. Jobs, graffiti, poverty and charity. "The more knowledge you get, the more imagination you lose". Broke the serious mood with a joke. James came along with beer and talked about Spain and experiences. Decided to go swimming as sooo hot. Listen to the streets and drink more beer. I'm smoking too much. Have discussion about different countries attitudes. Went back to house and drank whilst waiting for salty pieces of shit (sardines). Ate sardines and recanted my salty pieces of shit comment. Marta's uncle and family turned up. Dig her uncle man! Couldn't understand him, but spoke like he'd killed many men and learnt much from it. Seemed like an incredible guy but couldn't say a word to him. One of the little girls with them was going to an Opus Dei school. Worried Victoria who ran to quiz Bebita about it. Drank more beer and um and considered playing drinking games or going to Ronda, but everyone tired so didn't bother. Early bedtime of 1!
26 th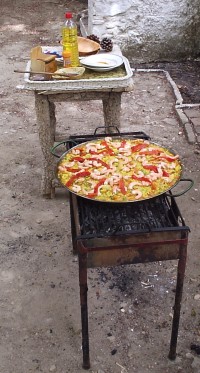 Have nightmare about police arresting me with Mary Jane then beating me. Was terrifying. Barely slept after. Woken by Victoria at 11 to help prepare paella. Make it downstairs at like 12 and de-shell some prawns. Feel like a mong. Went to Ronda with James and Victoria and thank god the dead cat in the street isn't there to run over again. Ask Victoria what language she thinks in. Gives the same old answer. James goes to the supermarket while I go to the tobacconist. Buy 4 packs Marlboro and 4 packs random much to the disgust of the lady serving. Victoria . Tells me you can buy a shopping bag of Mary Jane for £10 in Geneva . Get back and Tom's attacking a pine cone with a hammer. He goes off to play ping pong and me and Jim play shithead with Lara and drink. Victoria 's friends arrive with baby and we very lamely try to light bbq. Bebita intervenes and we go for a swim with the baby. Go back for lunch of paella and gaspacho. Listen to Spaniards ramble on and make English jokes. Victoria's friends says Lara looks more French than English and I comically mutter racist and am overheard much to the offence of the lady (who's pregnant). She says her great gran was gypsy so she can't be racist! Oh well. Get told to do the dishes but see a wasp in the kitchen and catch it in a glass with no plans what to do with it. English cries of "shit what now" confuse the Spaniards. James shakes the glass and Tom lets it go and everyone panics. Start doing the washing up but am lame so Lara takes over! Play shithead then go to pool with everyone. Discuss clubbing and pills to the sound of the trainspotting soundtrack. Rescue some bugs from drowning. It's so strange being with this little Spanish family, digging their lives but not understanding their words. Two little spheres of cultures overlapping but not interrelating. Have massive argument about languages. Tres dull and repetitive. Finish the rum and decide to go into town. Head back to house and watch TV whilst others finish changing. See some couple on TV in Barcelona climb into bed on Las Ramblas and get it on. Wait until Marta come along and watch the news again so she can explain but it doesn't come up. The girls are all swankyfied and me, Tom and James look like the travelling hobo's we are. Drive into town, but can't find parking space so Victoria gets out and moves a moped then takes it's place! Wander into swankiest looking restaurant in town and get treated like shit even though it's half empty (they won't let us move a chair?!) and all us kiddies leave. After looking at lots of menu's I randomly chose a place and all agree. We sit then notice on the next table are Marta's uncle and aunt. A different uncle than before chats to James in broken English and cracks us all up. He is like a drunken buffoon, but he is sober and hilarious. By farm my favourite Spaniard. He says he went to Gibraltar recently but all he did was buy pants from Marks and Spencers. We order a variety of delicacies including bulls tail and all is well. More drinks. Woo. Trying to split bill when Marta's uncle says he'll pay it! Explains that his very rich and gives James his English change (35p) to exemplify this. Go to a bar (bodega) and drink a bit when Marta's sister calls. Turns out they made an official complaint about restaurant and went elsewhere. She wants James to drive home but he's too drunk and there are no cabs so we cut our night short and pile into the car. Get back and Marta broaches the before unmentioned question of rent. Kinda surprised but Tom and Jim had overheard Victoria discussing it with Marta previously. Over shithead and booze we work out how much we can afford each and Victoria wanders out to discuss it. Very calm discussion goes on and on, which boils down to we shoulda know. But we didn't. James says we'll leave if she wants as only a ridiculous person would make us. Victoria goes to bed and we play shithead and drink the house dry until 4 discussing family. It's great! Makes me smile so much and try to explain why, but everyone is too far gone to listen or care.
27 th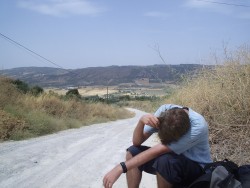 Had a dream about buying a houseboat with Tom and James and finding out Marc is our neighbour. I scream abuse at hum and beat the shit out of him but he keeps following me. Hmm. Wake up with MASSIVE hangover. Struggle into shower and have to lie on floor of tub for a minute in the middle after legs give way. Decide the pool will save me, but first toast. The Spaniards drift in and out of the kitchen whilst I'm preparing it and seem cold somehow. Maybe its because I look deranged in my state. Look out the window whilst washing up and remember where I am and how amazing it is. Start giggling manically. Go to pool and Tom and Victoria are deep in discussion and ask me to leave them alone. I fall into the pool and it saves my life. Tom comes over and says "She's called Jim's bluff. We gotta leave". That unreasonable bitch. Thought we weren't helpful enough or some shit. Takes all my might not to scream at her. Plug the stereo in under the pool where a giant spider and snail live together. Pack up out shit fast and get outta there. Tom thinks it's reasonable, but me and Jim are ANGRY! Get my revenge by eating last cheese slice. With out packs on we start the long uphill trek into town under the mid-day sun. Mad dogs and Englishmen. So hungover, so hot and so steep. We stop every 50 yards drenched in sweat. Dogs bark, mosquitoes bite, I curse that bitch for not even taking us to town. We stumble on towards death or glory. Find the road and scramble up steep embankment and slide down and go up again onto main road. Make it to Ronda and go to a swimming pool bar for quick drink. An old hobo mumbles at us unformed words, not even in Spanish. Get to station after stop in supermarket and finally relax in air conditioning! James buys the daily mail and Tom rushes off to take photos of town before train arrives. It's been great here so decide not to curse that bitch anymore. Get the train to Bobadilla and pass the valley that I yearn to pass through. See the graffiti "Legalise Marijuana Now". Bobadilla is tiny so we chill in the station. Tom sleeps. Train come in and we jump on. It leaves and we ask someone; wrong train! Get off next stop (Antequerra) and get train back 2 hours later to Bobadilla. Eat chorizo & cheese sandwiches and fill them with ketchup. Do mirror crossword and drink beer. Finally get train and our carriage is full of screaming kids. Try to sleep. Train loses power half way and everyone goes nuts. Roll into Malaga (which is meant to be Spain 's poorest town) and are vaguely impressed. Paper Guernica in station. Get to hostel and room is called Columbia . See pictures of bullfighters on wall, one makes Jim laugh and every time he does there is a chorus of laughter in response. A Portuguese girl pokes her heard out the door and has a laughing introduction. We go to internet café until closing (15 minutes later) then go to bar and waitress bring us three cokes for no reason. We finally make them put rum in them as a compromise just in time to toast tom's birthday. Go to pool hall after and play pool and darts and drink dirt cheap beer. Great! Come back and play shithead and listen to stiff little fingers. Still angry, but much less so.
28 th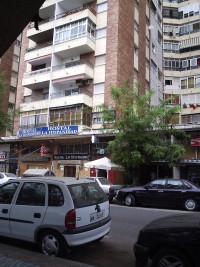 Get woken by guy asking if we want another nights accommodation and shout si through door until he leaves us alone. Go to internet café and sort Moroccan and Jerez accommodation. Eat lunch (James has egg, bacon and chips!) and drink beer. Go to Museo de Picasso. Is wicked and fun coz of Jim's constant foolish commentary. See kittens fighting at base of statue which looks like Lennon. Go to bar and discuss books while drinking rum. See the church which Picasso was baptised in but cannot enter due to wedding party in the street. Go up road to Random monument. See pigeon spattered in paint. Take photos while a young girl who has climbed though the railing is prodding a dead pigeon while throwing around broken glass. Her father tries to tempt her back through with sweets. Beside us an old man throws up in the street. We go back to the church during a sermon. I pay to light an electric candle for my sister. We see Picasso's baptismal font. We discuss religion. We go to see some ruins, a roman theatre and a bull fighting ring. As we're walking through the park a pigeon shits on our map. A mumbling weirdo tells us he has been to the police station for some reason. He shows us a bag to prove it (strange!). Says he is a good cause. Tom gives him under a euro in change. I contribute 10 cents! Taxi back to hostel. I promise to be good if Victoria turns up, but James is a bit cagey. Go to meet Marta at station and hang around with hobo's by entrance. They offer us Mary Jane but we say no as we're leaving for Morocco the next day. Marta and Lara turn up. Phew. Walk to town then wander round in circles in town for long time suggesting and vetoing restaurants. End up in Italian and drink lots and eat lots. Feel ill but go to bar across a square where people got to drink in the streets. Hundreds of people! Go to book bar which is fucking cool, has a swing as a seat and stairs leading no-where. Drink excessively until closing and discuss family, decency, friends and bullying. Tom had raging political discussion with Lara. Move on to bar down the street which has a Hawaiian theme and bright flashing lights. Play darts and drink more. A Spanish coke head called Charlie starts bothering us. We move on to a local bar and drink champagne. James wins a frog in a grabber machine. Drink more until James feels ill and goes outside. Find him laughing with barfly and look for taxi tout suit after saying goodbye to Marta and Lara. Go to square again and wait for a taxi. Two youths slap around a homeless guy until some stoners in a suped up car go intervene. People kick broken glass into the street. A taxi comes sometime late and other people dash to it. James starts ranting at them that we were queuing and pushes the guy. His girl goes straight over to the police. I realise that the guys sign language means he phoned the taxi. James goes over to the police and apologises just in time. I give cigarettes to countless strangers. I ask police how to get back and just as they give us a taxi number one arrives so we go back and straight to sleep. Tom arrives shortly after us at about 5.
29 th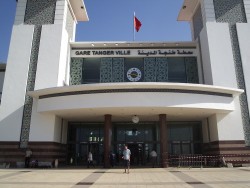 Get up at 7. Realise I've lost my books, but too tired to look that much and don't have time. Picasso museum bastards must have stolen them. Get train to Bobadilla and just awake enough to see amazing sunrise over mountains. Fog rolls over them. Back in Bobadilla which seems to be the centre of our travel experience. Get on train to Algeciras and its air conditioned and freezing. Try to sleep but too cold, and chairs too uncomfortable. Tom sleeps on floor but conductor kicks him awake and tells him off. Go through tunnels in mountains and close my eyes. Storks nest on telephone poles. Get to Algeciras and it looks like a slum. Too tired to care. Get tickets and go to ferry port. Massive queue and Moroccans perpetually try to push in front of us. Children prance around. We get on the boat. See Gibraltar . Nothing special! Try to sleep but get hassled by Moroccan kids. Tom wakes up and we go get first view of Africa ! Woo! Finally arrive and get sent back onto boat as we didn't get our passports stamped. Saw a queue for police on boat but thought lots of people had been robbed. See Americans and Irish collected in same Muppet position as us. Talk to two brothers from Missouri and Irish called Teresa and Connor. Irish going to Fez so get travel buddies. Random Moroccan talks to tom and finds taxi for us (ooh) and we give him a coupla euros after he bugs us. Little kids beg for change in return for gum. Taxi dodgy as hell (me and tom cram in front seat). Tom says 10euros to driver and he says yes! 5 minute journey. Irish unhappy. We sit in station and eat kebabs while they go look round Tangier. Massive rush for train suddenly so we go without them. So hot! Share carriage with little family who we constantly ask where we should get off. They are helpful but get off early. New people in our cabin and we ask question again, and again they are very helpful. Have cigarette at end of carriage and people are hanging out the door of the moving train. As argument breaks out outside our cabin. We change at Sidi Kacem. Thank god the trains air conditioning works! A man joins our cabin and starts chatting about how morocco will be good. Get on topic of Bush and Islam. Dodgy! Tells us about Kif! Gives us phone number of guide and tells us to call him at 9 or 10 am despite us telling him that we'll sleep all day. His name is Sayed and he makes tiles. Finally get to Fez at 11. 18 hours travelling! Outside a man says he is from tourist board and will help us if needed. Gives us his number, but he cannot write so James transcribes. Get in minivan but police stop us from leaving as he's ripping us off. Get in another taxi, but then have to change again as its busted. This country is so poor yet all drive Mercedes. No seat belts and busted seats. Driver puts on Moroccan music and sings along. Get to hotel. It's phat! Sleep finally.
30 th
Have a dream about leading a jailbreak and having Crocodile Dundee hired as a bounty hunter to catch me, but he is too depressed to try as he's being paid so little. Get up at 9.s0 and me and Tom struggle up to breakfast of breads and coffee. Go use internet café but is very difficult as keyboard is Arabic. There is a playstation there which the owner seems to letting the local kids use for free! Tom goes for mint tea in café and talks to Moroccans. I go home and some kid pesters me while I walk back. Tells me "Fuck money, my brothers get money for my family, I just wanna smile. We men. In Morocco men talk to men. I come back at 2 and we talk and smoke." Get back to Hotel and watch CNN with Jim. Try to sleep. I miss Kathy. Watch more CNN. Tom comes back and we go look for food in the Medina . See a box of tortoises being sold. So many dodgy goods. So many streets. Stop for cup of mint teas and ask proprietor where to buy food. He tries to sell us his packed lunch. We refuse. They're with Mary Jane and because I'm so hungry, hot and tired she causes me pain. Feel light headed so wonder back up hill unsure of my feet. Tom spots sandwiches being sold so we sit down to ea in the tiniest restaurant. Struggle back to hotel and try to sleep but am all fucked up. Join Tom and Jim by the pool and drink more tea. Ask as reception where to eat as hotel restaurant expensive, and they take us somewhere more expensive. Massive beautiful building, but we're only customers and get ripped off. Wander through square filled with people eating corn on the cob being roasted over fires. At hotel drink more tea and meet some Aussie called Melinda. Chat loads of shit and Tom chronically lies! She's hungry so we go get food with her. I give a kid in terrible condition a few cents. Come back and Melinda says she doesn't know anything about Christianity and can we explain. We think she lying to start but end up explaining for a long time. Read and sleep.
(Editors note: Was scared of Moroccan pikeys so no photo today ;)
31 st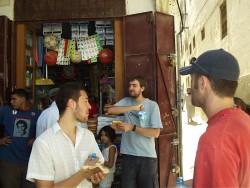 Woke up to the sound of Tom's ringing phone. Grabbed it and ran out door calling his name to silence he beastly thing. Couldn't find him so now I'm a guy in pants calling a mans name in a courtyard full of strangers. Doh! Get dressed and go to read my book. Melinda comes over and we eat melon. She's renamed Tom "the liar". I read book for rest of day while Tom and Jim talk to others and arrange a night out with Melinda and her newly arrived buddies. We grab a couple Taxis at six and walk round in giant circles looking for somewhere to eat. Luke (one of the Aussies) gets his shoes shined in the street. We get approached by many people who give us directions we can't seem to follow. Some guy tells the Aussies that they shoulda brought a kangaroo with them as they're worth many camels! A boy goes by excessively whipping a thin donkey pulling his cart. We find a pizzeria and fall in only to find it's no alcohol; it's forbidden. Nice food. Ask for discotheque when we're leaving and they point us to a nearby hotel. We sneak in with a bus load of tourists and find it's happy hour at the bar! Same price as our hotel almost. Give us free popcorn and nuts. A guy in the corner plays a keyboard continuously and sings. Surprised by his resilience. We get drunk. We decide to leave and go looking for Mary Jane in the Medina . First we drink mint tea with a cop sitting next to us. He leaves to help four other cops escort an extremely old man to jail. The Aussies buy some dodgy camel toys and Guava's. We see a big cat obliterate a tiny cat. Tom argues on our behalf for Mary Jane and eventually gets it done, although not to a satisfactory cost he feels. Jim and Luke wonder off to make some phone calls and a young boy follows them and says he will kill them as they're not Muslim. Some back to hotel and blazed in room then went for a swim. Really cold! Smoked more and chatted to Aussies. Tom helped throw some French guy into the pool. We go to sleep.
1 st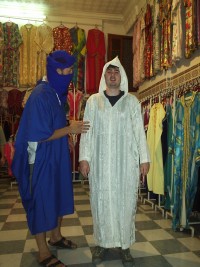 Get up at 10 to meet our guide and go on tour through Medina with Aussies. See a window which is a married woman's only view of the world. Touch the hand of Fatimeh. See the oldest university in the world. See an old woman screaming and crying down the street. Get taken to a rug co-op of mountain folk and see how they're made. Get told that men weren't allowed to see their wife before marriage, only the rug she made and he decides whether to go through with it on that basis. See view of all medina. 6000 streets. Woo! Get tricked into buying many rugs. Carry on. I buy a fez from a crusty old man and give him 10 tip. See the smallest cat ever. Go to a spice seller and he makes us smell many things. I feel ill. People buy herbs and spices. Go to tannery. Smells bad. They are annoyed when we don't buy any extortionately priced leather. See famous mosque. Go to 'Moroccan Picasso's' workshop. He chisels brass plates with incredible accuracy. Gets angry when we refuse to buy. Go to clothes shop and they dress us in ceremonial robes. Tom buys a kafkan. Get angry when no-one else buys. See graffiti saying Eminem! Go to workshops. Go to music shop, but we're all broke by now. Luke needs a pipe for his shisha but they are charging a lot. He argues the price down then say's he'll pay original price if they give him some green Mary Jane they've just pulled out. Deal! Go back to hotel but guide refuses to enter to be paid. Dodgy bastard. I feel rough so try (unsuccessfully) to sleep after MJ. We all go out to dinner at 6 to a nice place which plays nothing but 80's cheese. Aussies are cool! We are all tres indecisive in restaurant and they musta been glad to see the back of us. E-mail Kathy. Go back and smoke, drink, swim and play cards until Aussies leave. Sleep!
2 nd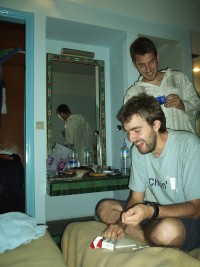 Get up at 7.30. Make it to station on time and share cabin with family. Whilst Jim smokes and talks to son about football outside, the mother asks Tom in French if he can look for a job for her son and if he has a sister in England . Change trains and blag our own cabin. Have discussion about secret societies and religion. Tom blags us shared taxi to port for 20D. See fast ferry is leaving in 20 minutes. Run to get passports stamped. Passport guy says we need a form. Run to fill in form and bumbling baggage handler fills in Tom's slowly and asks for a tip. We get more forms and fill them in ourselves. The baggage handler hangs around despite Tom's honest protest that we have no money left. Run to passport guy then RUN to ferry and just make it. Woo! Bye bye Morocco . That country was so strange. So old and poor. So friendly and so angry. We all agree that we did good considering time constraints. Buy beer and shit loads of fags. Settle in to watch Spanish soaps and the unknown land pass us by. Get to Algeciras . Doesn't seem as crappy after Morocco . Follow many peoples bizarre instructions but finally find the bus station. Spanish people push in queue but Tom's constant "Por favour" saves the day and we make the bus just on time. Amazing views roll by. Art works on hills like a hand rolling a ball and flamenco dancers fill the sky along with millions of windmills. Crazy old man rambles the whole way. Get to Cadiz and find a hostel just off San Juan square. Back in land of crutches! Drink beer and rum and eat. Discuss morality and charity. Go back to hostel to sleep. Have a dream about Lara and Victoria being secret old buddies. Very inane. Tome and Jim come in a coupla hours later trying to be quiet but making a lot of noise. Sleep!
3 rd
Woken by bells and other residents. Get up just before 12 and run out so as to avoid paying again. Have drinks and sandwiches outside town hall. Tasty! Go to "world famous" cathedral (Torrede de Poniente) and go up spire. Very simple winding slope made of unfinished rocks. Built from American gold money long ago. View is amazing at the top. Looks like Fez ! See whole city as one. Walk through square outside to sound of Spanish guitar. See a boy roll his ball down steps. Tom returns it, but the father shouts at his kid for no reason. Help an old lady carry stuff up steps after she shouts at us then receive no thanks. Go see the sea. See the museum. See the market place. See mullets and crutches everywhere! Go back to James and move to bar next door and drink. Says some Aussie guy explained everyone feels ill after they leave Morocco . Amble to train station and ramble at ticket guy. Perfect timing! Meet coupla German birds on the train but can't really be bothered to talk to them. Read a book and the graffiti that rolls by the window. Arrive at our final destination but worry that we're at the wrong one (There are two Jerez 's!). Taxi to hostel. Nice place. Have first siesta of trip (on last full day in Spain ). Dream of bumping into Dani and Marc in a theme park and trying to make him go away through violence and abuse but he takes a long time to take the hint. Then go through layers of lucid dreams. Wake up by making a bus I'm on go over a cliff. Tom and I go to town to get food. Stop in Sherry shop and an old man rambles at us. We think the language barrier is the problem but soon realise he's drunk. Taste some sherry. It's excellent. Use internet surrounded by kids playing games. Go to restaurant and have deer meat and drinks. Even lampposts here are beautiful. See anti-communist graffiti. Discuss money, generosity, gifts and Spanish culture. We are refused our requests for dessert. A tree is blown onto other diners. Try find our way back but get slightly lost. A fat man tells us the way while his family laugh. Back to room. Read and sleep. Earliest night yet.
4 th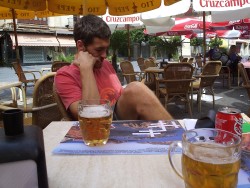 Terrible nights sleep. Under air conditioning and freezing cold. Have dream about seeing Sauls dad and Joe on TV doing an assault course, then as she's annoyed she couldn't got, doing a rough assault course on the docks with Sauls mum. Have to save her life many times. Strange! Leave bags at hostel and go get pastry and coffee for breakfast. All feel Morocco 's revenge so decide to try waste day in cyber café. Play games, write e-mails. Go get dinner of veal lasagne (shock!). Wait around for churros but again not right time. Wander round town on my own and finally understand what Aussie's mean when they say London 's too crowded. Jerez is beautiful See a wedding. See a homeless guy settle with nothing while well dressed Spaniards go from table to table asking for money. See old men sit around table who are the salt of the earth. Buy some toys from a machine. See an old lady constantly touch her nose with her bottom lip as if she's gurning on pills. She notices us stare and gives us a truly evil eye. In the quiet finally feel Spain . Go back to hostel, pick up bags and go to airport. Driver says, referring to newlyweds that we pass, that marriage is death. As airport discover that plane is an hour before we thought! Buy some duty free. Try and blag a lift in London as we're all a bit ill. Tom declares "English people are ugly" but I remind him that we're flying Ryanair. They call for us to board but after we've fought our way past the front of the queue we realise it was just for people with children. Ho hum. Sit right at front of plane and worry for the first time that flying might make me ill. Keep my head buried in a book to help. See the city we live in pass by below. It's incredibly lit up and a real beautiful sight for sore eyes. Baggage claim takes an hour or so, so despite landing early and being able to catch the Stanstead express, we now have just missed it. Dejected we amble out and James drops and breaks a bottle of duty free. We're all tired and sick so get first coach, just before realising that the second coach woulda accepted our Stanstead express tickets. Doh! Get to London Victoria and discuss night buses but are thankfully cut short by a reasonably priced minicab driver. Homeward bound! Get out, shake hands with Tom and Jim, light up and walk home. It's been fucking wicked. Thanks for everything.
Giant waves crush the sea flat
I'm wearing a tiny hat
The only topless women are fat
Oh Spain !
Paella or tapas; there's only one choice in this city
There's no in between; the girls are ugly or pretty
There's graffiti everywhere, but not much is shitty
Oh Spain !
Quadruple shots in your coke of rum
Swimming in the sea will always be fun
You can lie in the sane til way past your tan is done
Oh Spain !
Th instead of Z, and sometimes also c
If only Catalonia was free
And the locals didn't stare at me
Oh Spain !
Check out all the photos at http://verydodgy.com/photos/180804/index1.html
Copyright Justin Driskill and James White 2004